UGO FADINI
LAND SPEED RECORD MODELS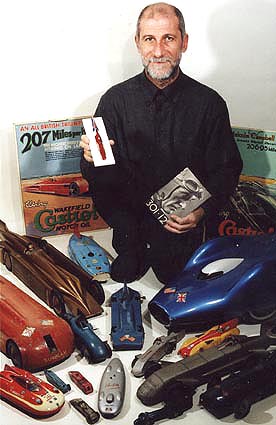 LAND SPEED RECORD CARS SINCE 1974

A car lover and a collector of model cars since my childwood, in the late sixties I began, like other collectors at the time, to "chop" and modify the very few diecast model toys that were available at the time, to obtain different cars (mostly racing) that were being overlooked by the industry.
In just a few years that original group of "choppers" gave birth to a number of small one-man companies that began offering more or less home-made kits or hand-finished "model cars for collectors" (as opposed to "toy cars"). The movement quickly grew and eventually created a whole new market that catered for collectors over a long period when the industry was dormant.
After being one of the pioneers of the new "hobby", I went "semi-professional" in 1974 and started the very first (and, for a number of years, the only) "marque" devoted exclusively to the reproduction of land speed record cars. Over the years I have produced other types of models, but land speed cars, be them World Land Speed Record holders or challengers, smaller class record breakers or Bonneville Speed Trials contenders, have always been the core of my work, and I pride in having always chosen subjects that had never been modelled before.

ACCURACY AND DETAIL

Authenticity and accuracy being my obsessions, I devote a huge amount of time and effort into researching thoroughly every new car I plan to reproduce for accurate detail. Whenever the real car is in existence, I make a point of inspecting, photographing and measuring it personally. This accounts for the relatively small number of models I have released over the years (and for the relatively high prices too!). I have always produced personally the masters for my models, never using pre-existing models or masters made by others, and I have hand-built and finished myself every single model I have sold that was bearing my name.

HOW ARE THEY MADE?

All my models are made of polyurethane resin (polyesther was used for models 1 to 6). Cast, photoetched and turned metal parts are used where required. They are airbrush painted in authentic colors using real-car paints. Decals are custom printed by the best italian companies on the market. All models are produced to a constant 1/43 scale, in a limited edition of 300 or less numbered pieces. Starting with model n. 3, they are mounted on a signed wooden base and come with a two-language leaflet giving the full history and technical details of the real vehicle. From model n. 13 white Forex is used for the base instead of wood.

WHAT CARS?

Over the years the series has offered models of some of the most significant cars that held or attempted the outright LSR in the late 20's at Daytona Beach and at Bonneville in the early 60's, together with some italian class record breakers.
More recently, after I attended my first Speed Week (1990), I turned my attention to some of the fastest or most historically significant Bonneville streamliners.
My future releases will keep providing a good selection of very different types of land speed and record breaking vehicles!
1* Sunbeam 1000 HP, Henry Segrave, Daytona 1927, LSR (1974)

two versions: 1a "record day", 1b "Natl. Motor Museum"

2* Golden Arrow (Irving Napier Special), Henry Segrave, Daytona 1929, LSR (1976)

3* Stutz Black Hawk, Franck Lokhart, Daytona 1927, LSR, unsuccessful attempt (1978)

4* Fiat-Abarth 750 Pininfarina, Monza 1957, Class H Intl. records (1980)

5* Challenger I, Mickey Thompson, Bonneville 1959, LSR, unsuccessful attempt (1981)

6* Challenger I, Mickey Thompson, Bonneville 1960, LSR, unsuccessful attempt (1981)

7* Blue Bird, Malcolm Campbell, Daytona 1928, LSR (1983)

8* OSCA Simpson Special, Bonneville 1955, class F Intl. records(1985)

9* Fiat-Abarth 750 Bertone, Monza 1956, class H Intl. records (1995)

10* Spirit of America, Craig Breedlove, Bonneville 1963, "unofficial" LSR (1989)

11 Fiat-Abarth 500 Bertone, Monza 1956, class I Intl. records (1996)

12 Spirit of 76 (Speed-O-Motive), Al Teague, Bonneville 1991, wheel-driven LSR (1997)

12B* Spirit of 76 (Banks Engineering), Al Teague, Bonneville 2000, B Class record (2000)

13 Hoffman-Markley, Harry Hoffman Jr., Bonneville 1992, class 9 Intl. record (1999)

14 The Redhead, records at Speed Week from 1962 to 1991, 1987 version (1999)

15 Team Vesco Turbinator, Don Vesco, Bonneville, 1997 (2000)

16A Cooper 500 class record breaker, John Cooper, Montlhéry 1951 (2001)

16B Cooper 500 class record breaker, John Fox, Bonneville 1954 (2002)

16C Cooper 500 F3 race winner, John Cooper, Avus 1953 (2007)

17 Burkland streamliner, Bonneville 2000, 438 MPH one-way run (2002)

18 The Phoenix, Bonneville 2001, diesel truck record at 251 MPH (2004)

19 Fiat-Abarth 500 Bertone, Salone di Torino 1956 (2007)

om10 Infinity jet car, Bonneville 1962, fatal LSR attempt (co-released with Omicron 2003)

so01 Hill-Davis "City of Burbank", Bonneville 1952, SCTA Class B record (2003)

so02 Hill-Davis "Bob Estes Mercury", Bonneville 1952, FIA Class C International record (2004)

so03 Hill-Davis "Bob Estes Mercury", Bonneville 1953, SCTA and AAA/FIA Speed trials (2005)

so04 Shadoff Special, Bonneville 1954, SCTA Speed Week Class C record (2005)

so05 Shadoff Special, Bonneville 1953, FIA International Class C records (2006)

(* models with an asterisk are sold out - no longer available)

FUTURE RELEASES (order of issue subject to change)

- Fred H. Stewart Enterprise, Norman "Wizard" Smith, LSR attempt 1932

- Spirit of America rocket project, 1983/87 (model of existing full scale mock-up)

- Spirit of Autopower, Nolan White, 413+ mph SCTA record, Bonneville 2002

- Aussie Invader III, Rosco Mc Glashan's jet LSR contender from Australia

... and many more!
____________________________________________________________________________________________________________
Home | About Ugo Fadini | Current models | How to order | Discontinued models | Models to come | Articles & Stories | Links
© Ugo Fadini 2000/2013 - page last updated 27 December 2008