UGO FADINI
LAND SPEED RECORD MODELS
Discontinued models
This model is NO LONGER available!!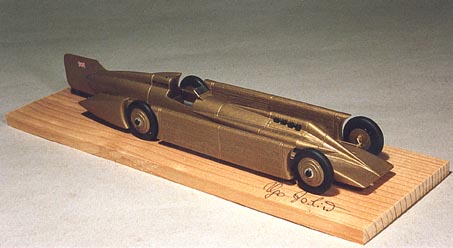 Ugo Fadini 2 - Irving Napier Special "Golden Arrow", Daytona Beach 1929
Driven by Henry Segrave (who became Sir after this record) this car, one of the most beautiful LSR vehicles of all time, set a new Land Speed Record at 231.446 MPH in 1929.
Introduced in 1976 this model had the shortest run in my production. Only 160 were built before I decided to stop due to the excessive amount of time required by many of the details that were completely hand made, including the lettering on the head rest, which was done by hand on each model!
The model was delivered without the wooden base that appears in the photo.
The real car is part of the National Motor Museum collection at Beaulieu, UK.
Click here to send an E-mail to Ugo Fadini
____________________________________________________________________________________________________________
Home | About Ugo Fadini | Current models | How to get them | Discontinued models | Models to come | Articles & Stories | Links
© Ugo Fadini 2000/2001 - page last updated 29 Dec 2000