Ugo Fadini Model #15
Team Vesco Turbinator
Don Vesco, Bonneville 1997, SCTA World Finals, turbine streamliner record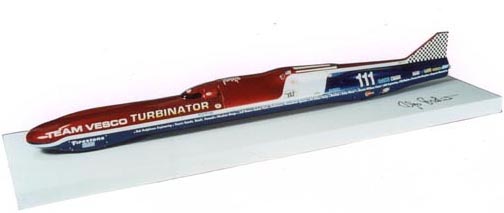 The model pictures the car as it appeared at the World Finals in october 1997, when it was clocked at 438.897 MPH on the mile (one-way)

In October 2001 Don Vesco driving Turbinator has become the holder of the so-called "wheel-driven" land speed record. Read the story to get all the details



This model has been produced with the full cooperation of Team Vesco

It is based on measurements I took on the real car at Bonneville.

Model comes mounted on a white forex base



The real thing: Don and Rick Vesco with Turbinator at the World Finals in 1997 (photo Elliott Estrine)
Models of the Vesco 111 streamliner in pre-Turbinator form and in the 2000 FIA wheel-driven LSR version may be released at a later date. Please feel free to let me know if you would be interested.
____________________________________________________________________________________________________________
Home | About Ugo Fadini | Current models | How to order | Discontinued models | Models to come | Articles & Stories | Links
© Ugo Fadini 2000/2005 - page last updated 9 August 2002