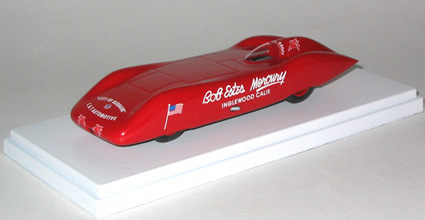 model #so02 - Hill-Davis (Bob Estes sponsored) car finished in bright red as it appeared in September 1952 for the AAA Speed trials, when the car set two FIA Class C International records.
Read the story.

Model comes in a clear showcase, with illustrated box
Master model by Ugo Fadini - handbuilt in a limited edition of 200 numbered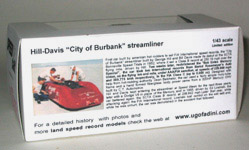 (photo Speed Age mag.)
PLEASE NOTE: if you see a similar model under a different trademark ("record models" or other), IT IS NOT AN ORIGINAL UGO FADINI MODEL, it may be a "pirate" copy: the original model is marked "SPEEDONsalt by Ugo Fadini" and is handsigned on the bottom.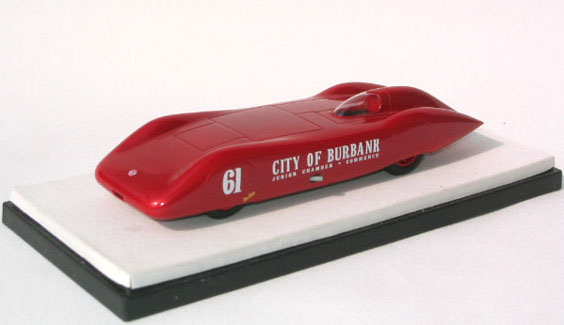 model #so01 - Hill-Davis (City of Burbank sponsored) car, modelled in red metallic as it appeared before setting a record at 230.16 mph in SCTA Class B/S on the Bonneville Salt Flats in August 1952.
Read the story.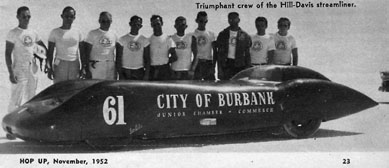 (photo Hop Up mag.)
Model comes in a clear showcase, with illustrated box
Master model by Ugo Fadini - handbuilt in a limited edition of 200 numbered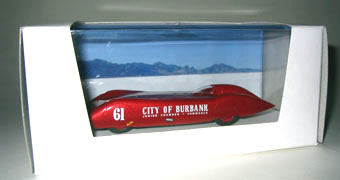 More versions of the Hill-Davis streamliner may be released later

Look here for more new models to come in the SPEEDONsalt range of early Bonneville streamliners
____________________________________________________________________________________________________________
Home | About Ugo Fadini | Current models | How to order | Discontinued models | Models to come | Articles & Stories | Links
© Ugo Fadini 2000/2005 - page last updated 29 May 2005