UGO FADINI
LAND SPEED RECORD MODELS
Discontinued models
This model is NO LONGER available!!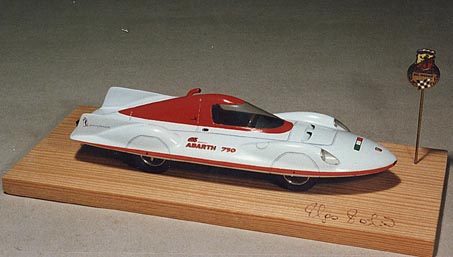 Ugo Fadini 4 - Fiat-Abarth 750 Pininfarina, Monza 1957
After setting many International records with the Bertone designed streamliner in 1956 (see Ugo Fadini n. 9 and 11), Abarth had two new cars designed by Pininfarina for 1957: the 750, the most successful of the two, used the by now popular Fiat 600 derived engine on a purpose built chassis and again set a total of 18 International records on the Monza cirquit
This model was introduced in 1980 and was produced in 300 numbered pieces.
The Abarth pin was not included with the model!
The real car is now in a private collection in Japan.
Click here to send an E-mail to Ugo Fadini
____________________________________________________________________________________________________________
Home | About Ugo Fadini | Current models | How to get them | Discontinued models | Models to come | Articles & Stories | Links
© Ugo Fadini 2000/2001 - page last updated 29 Dec 2000