UGO FADINI
LAND SPEED RECORD MODELS
Discontinued models
This model is NO LONGER available!!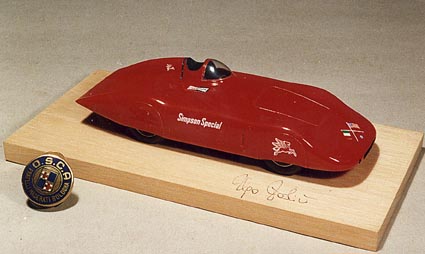 Ugo Fadini 8 - O.S.C.A. Simpson Special, Bonneville 1955
O.S.C.A. was the company the Maserati brothers set up after selling the Maserati factory to Orsi. They specialized in racing cars. This record breacker is probably one of the least known of all O.S.C.A.s, although it set no less than 18 International Records in the F Class (1.500 cc) on the Bonneville Salt Flats in 1955. Drivers were Indy ace Tony Bettenhausen and Marshall Lewis.
This model was introduced in 1985 and was produced in 300 numbered pieces.
The O.S.C.A. badge in the picture was not included with the model! The real car, minus its engine, is currently in Italy awaiting restoration.
Click here to send an E-mail to Ugo Fadini
____________________________________________________________________________________________________________
Home | About Ugo Fadini | Current models | How to get them | Discontinued models | Models to come | Articles & Stories | Links
© Ugo Fadini 2000/2001 - page last updated 29 Dec 2000