Ugo Fadini Model #18
The Phoenix LSR Diesel Truck
Fastest diesel vehicle on land
Carl Heap, SCTA record 251+ mph, Bonneville Speed Trials 2001
This model currently NOT available
read here how you can help to bring it back in production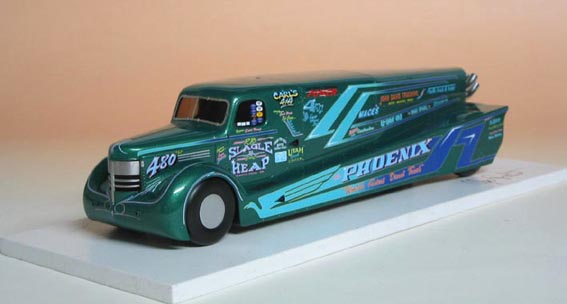 The model pictures the truck as it appeared when it set the U/DT class record in August 2001
It comes mounted on a white forex base, in an edition of 200 signed and numbered pieces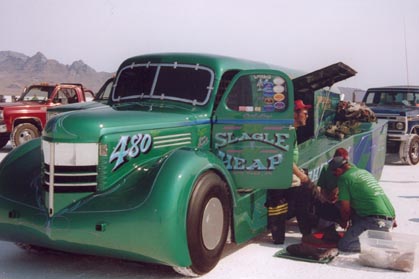 Carl Heap and The Phoenix getting ready at Speed Week (photo Pork Pie)
In 2001 Carl Heap's The Phoenix diesel truck became the fastest diesel vehicle on earth, under any sanctioning body, with a record speed of 251.244 mph. For comparison, the fastest FIA International record held by a diesel streamliner is a mere 236 mph.
Last August, at Speed Week 2003, with new rear streamlining and a front spoiler, The Phoenix raised the record up to 272.685 mph.
Read all the story here.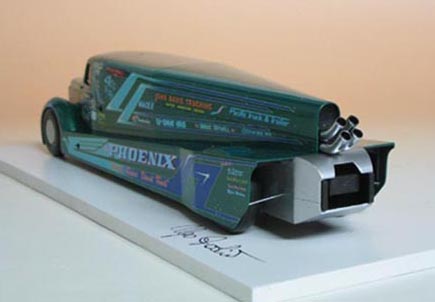 This model was realized with the enthusiastic support of Carl Heap and his son Travis, who supplied the drawings and measurements on which the model is based. Thomas "Pork Pie" Graf took dozens of detail photos specially for me and provided lots of help and support. Many thanks to them for allowing me to make an accurate replica of a truly unique land speed vehicle!
____________________________________________________________________________________________________________
Home | About Ugo Fadini | Current models | How to order | Discontinued models | Models to come | Articles & Stories | Links
© Ugo Fadini 2000/2011 - page last updated 16 December 2009