UGO FADINI
LAND SPEED RECORD MODELS
Discontinued models
This model is NO LONGER available!!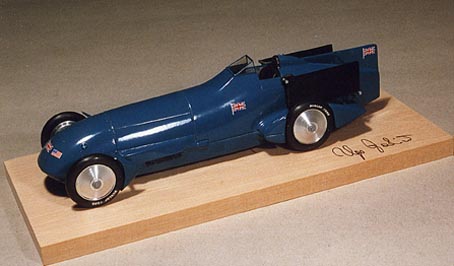 Ugo Fadini 7 - Blue Bird, Daytona Beach 1928
After Segrave's success in 1927, Captain Malcolm Campbell chose the beach of Daytona for his next attempt in February 1928, with a newly modified Blue Bird. He was not alone: Frank Lockhart and Ray Keech were also there with the Stutz "Black Hawk" (see Ugo Fadini n.3) and the White Triplex. Campbell experienced many problems but finally he was the only one to succede in setting a new Land Speed record at 206.956 MPH. Two months later though, Ray Keech took the record from him at 207.552 MPH.
This model was introduced in 1983 and was produced in 300 numbered pieces.
The real car was modified several times in later years and still survives in its final (1935) form. It was recently restored and is part of the Daytona USA display at the Daytona Speedway.
Click here to send an E-mail to Ugo Fadini
____________________________________________________________________________________________________________
Home | About Ugo Fadini | Current models | How to get them | Discontinued models | Models to come | Articles & Stories | Links
© Ugo Fadini 2000/2001 - page last updated 29 Dec 2000