UGO FADINI
LAND SPEED RECORD MODELS
Models to come

Below is a list of what I still planned to produce back in 2011. Due to various reasons, none of the projects came to light and I am not able to tell you wether they eventually will or not. As the say goes... stay tuned!


from Ugo Fadini in the main range
Gus Gus streamliner - Fabio Montani's was the first, and so far only, Italian streamliner to run at the SCTA Speed Week, and the second ever to run on the Salt after the OSCA Simpson Special in 1955. Fabio joined the 300 chapter in the 200 mph club first time out in 2011 - (master eighty per cent finished, project on hold due to cost considerations. If you place an order you may help it to become a reality!)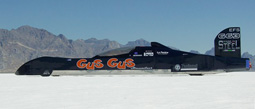 (photo from Gus Gus website)

Fred H. Stewart Enterprise - Australian driver Norman "Wizard" Smith tried the LSR in 1932 with this Golden Arrow look-alike, but only got the 10 miles record! - (master half-finished, but impossible to produce at my level of quality for an acceptable price. And I do not wish to produce in China)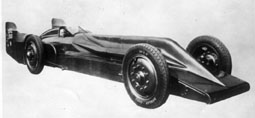 car as originally built (photo from my archive)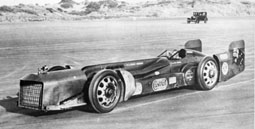 car after tests (photo from my archive)

Spirit of America - the 4-rocket project - model of 1985 full-scale mock-up. Car was never built, rocket project was abandoned in favour of a jet car, which ran in 1996 and 1997 at Bonneville and Black Rock - (just a project, no work has ever been done, so forget it!)


(press release photo)

Spirit of Autopower - Nolan White's "fastest piston-engined" streamliner, 413+ mph SCTA record, Bonneville 2002 - (just a project, no work ever done)



(photo from PartsPeddler website)
from Ugo Fadini in the SPEEDONsalt range
Bill Burke streamliner - Bonneville 1959 - (master 2/3 finished - I might resume work if there is any real interest))


(photo Hot Rod mag.)

So-Cal streamliner - Alex Xidias, Bonneville 1949-50 - (master half-finished; subject to authorisation by So-Cal Speed Shop)


(photo Hot Rod mag.)
Tom is still active, albeit at his extremely slow pace, and will most likely introduce the model below at some point. Or maybe something different!? He works out of passion if and when he has time.

Summers Brothers' streamliner ("Pollywog") - Bonneville 1963 (blue) - breaking news, it's COMING SOON!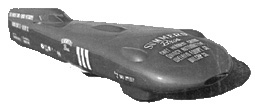 (photo from Speed Mechanics magazine)

Steen / Herbert streamliner - Bonneville 1990's

(photo from Motor Sport magazine)
____________________________________________________________________________________________________________
Home | About Ugo Fadini | Current models | How to order | Discontinued models | Models to come | Articles & Stories | Links
© Ugo Fadini 2000/2015 - page last updated 17 January 2015