UGO FADINI
LAND SPEED RECORD MODELS
Discontinued models
This model is NO LONGER available!!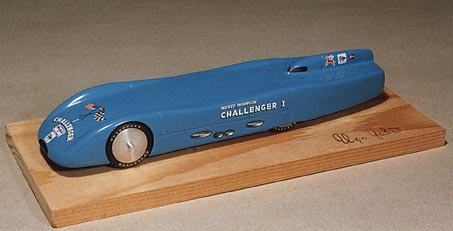 Ugo Fadini 5 - Mickey Thompson "Challenger I", Bonneville 1959
This is the first version of Mickey Thompson's land speed record challenger, as it appeared at Bonneville in 1959, pushed by 4 Pontiac V8s. It could not do better than 367.83 MPH on the mile, but set new world records on the flying 5 and 10 km and 5 and 5 miles. It came back in 1960 with blown engines (see Ugo Fadini n. 6)
This model was introduced in 1981 and was produced in 240 numbered pieces.
The real car survived in its 1960/62 form and was recently restored. It belongs to Mickey Thompson's son and in 1999 was on display at the NHRA Museum in Pomona, CA.
Click here to send an E-mail to Ugo Fadini
____________________________________________________________________________________________________________
Home | About Ugo Fadini | Current models | How to get them | Discontinued models | Models to come | Articles & Stories | Links
© Ugo Fadini 2000/2001 - page last updated 29 Dec 2000