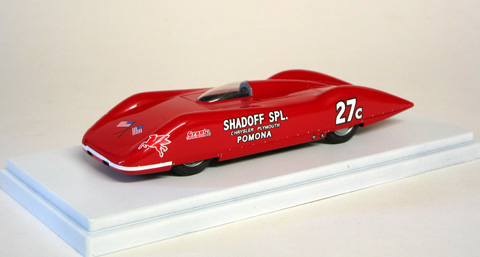 Model #so04 - Mal Hooper's Shadoff Spl.
as driven by Bob Bowen at Speed Week 1954 to a 248.26 mph SCTA class C/S record
Read the story of the Shadoff Special.





Mastered and built by by Ugo Fadini - Limited edition of 200 numbered hand built models
IMPORTANT NOTE: the white line that runs around the front of the car is applied loosely, to simulate the scotch tape used on the real car after early tests to avoid air lifting the upper half od the body (see picture of the real car). If you prefer to have your model clean as the car appeared the first day on the salt, please specify that you do NOT want the white stripe applied and the decal will be included separately for later application in case you change your mind.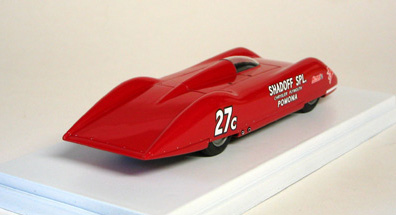 The Shadoff Special at Speed Week 1954
(photo Hot Rod magazine)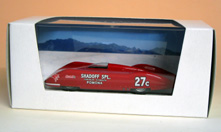 Other versions of the Shadoff Special may be released later.
____________________________________________________________________________________________________________
Home | About Ugo Fadini | Current models | How to order | Discontinued models | Models to come | Articles & Stories | Links
© Ugo Fadini 2000/2006 - page last updated 10 September 2006