The Team Vesco Turbinator
Don and Rick Vesco with Turbinator at the World Finals in 1997 (photo Elliott Estrine)
The Vesco family has been racing at the Speed Trials on the Bonneville Salt Flats for most of their over fifty years long history. In 1957 John Vesco first raced what was then known as the Vesco-Dinkins streamliner, a car that evolved through the years to become the current Vesco-Nish 444 streamliner, presently undergoing yet another rebuild.
In subsequent years sons Don and Rick raced many streamliners, mostly motorcycle, and Don held the outright motorcycle land speed record from 1975 to 1990.
In the mid eighties they decided they should do something about the so called wheel-driven land speed record, then still held by the Summers Brothers' Goldenrod. Rick designed a new four wheel, four-wheel-drive streamliner, called Project 425 (this being the targeted speed), which appeared on the salt for the first time in 1989, then pushed by two small-block Chevys, which were quickly discarded in favour of two turbocharged Offy fours. The car ran for a number of years at Bonneville but never quite matched the expectations. In the meantime Al Teague had finally set a new wheel-driven LSR (see Ugo Fadini model n.12) and other cars, like Rick and Nolan White's Spirit of Autopower and the massive four-engined Herbert-Steen streamliner, also looked like they could take the record any day, given the right salt conditions.
| | |
| --- | --- |
| | |
| Projet 425 first appearance in 1989 (photo from Nitro magazine) | In 1990 with twin Offy fours (photo Ugo Fadini) |
The Vescos determined that piston engines where not the right answer to their needs and turned their attention to turbines instead. Around the mid 90's they started to convert their car, using an AVCO Lycoming T55 helicopter turbine for power. Rechristened the Turbinator, it was first shown, but not raced, in 1996.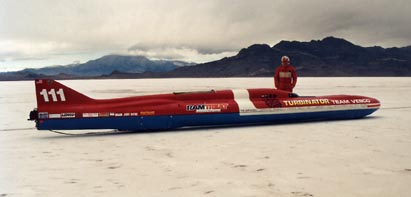 Turbine had just been installed when this photo was taken in 1996 (photo courtesy Rick Vesco)
At that point it still looked very much like the original Offy engined version. When it reappeared at Speed Week in 1997 the section between the cockpit and the tail fin had changed quite a bit, with new large air intakes on the sides to bring air to the turbine.
The performance was most encouraging. For World of Speed more changes were made to the air intakes which gave it its final shape, then at the World Finals it showed its full potential by doing a pass over the kilo at 438.897 MPH and setting a new SCTA record for Turbine vehicles at 400.833 MPH average over the mile (the record still belonged to Ermie Immerso's Thunderbird Turbine - see Omicron model n.4). This is the version chosen for this model.
Don Vesco at World Finals 1997 (photo Elliott Estrine)
The car ran again in 1998, both at Speed Week and World of Speed, sporting a slightly smaller tailfin, but salt and weather conditions did not allow significant speeds.
In 1999 the old three-tone paintwork gave way to a new amazing airbrushed livery by Von Otto, obviously a lucky touch, since Don Vesco bettered the SCTA turbine record twice, first at Speed Week and then at the World Finals, with an average of 427.832 MPH. This record was regarded by many people as a new wheel-driven LSR. It was indeed the fastest record ever set under SCTA rules and significantly faster than both the current FIA piston engine (still Al Teague's) and turbine (Donald Campbell's) wheel-driven records, although unfortunately Vesco failed to do a return run within an hour in order to set an International Record under the more restrictive FIA rules. (Although now outdated - see below -, you may still find useful to read "Who holds the "wheel-driven" LSR?" for more details)
Turbinator in its current colorful livery (poster photo Gordon Menzie)
In 2000, Turbinator was not ready in time for Speed Week and World of Speed; then heavy rains hit the Salt Flats before the World Finals and further attempts had to be cancelled. In the meantime, at World of Speed the Burkland streamliner (see model #17) was clocked at 438 one way...
The battle is open for 2001!


Read 2001 update below!
BREAKING NEWS!!! DON VESCO SETS NEW WHEEL-DRIVEN LSR!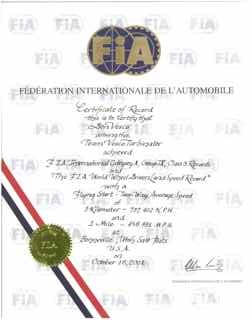 Don and Rick Vesco at the World Finals 2001 the day before
the record run (photo from Landracing.com web site)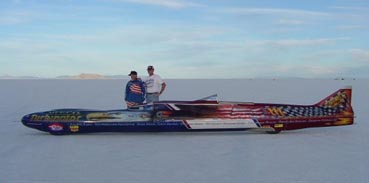 Don and Rick Vesco at the World Finals 2001 the day before
the record run (photo from Landracing.com web site)
On 18 october 2001, during the SCTA World Finals at Bonneville, Don Vesco broke the FIA International Records on the Mile and the Kilo for turbine automobiles: average speed was 458.443 MPH on the Mile and 737.395 Km/H on the Kilo.
Vesco is now the undisputed holder of the so-called "wheel-driven LSR".


2011 update - Don Vesco died of cancer in 2002, defeated by an enemy he had been fighting while, or perhaps "by", setting new speed records. Team Vesco, under the direction of Rick Vesco, continued to race at Bonneville, and still does, setting records with a new version of the famous Vesco family 444 streamliner, but the project to break the 500 mph barrier with a wheel-driven record was put on hold, although Turbinator was maintained "ready to run" and will indeed make a "Don Vesco Memorial Run" at Speed Week 2011.
Please check the Team Vesco website for more information and updates.
All the records set by Don Vesco driving Turbinator
| venue | year | sanctioning body | class | distance | speed (mph) | standing |
| --- | --- | --- | --- | --- | --- | --- |
| Bonneville World Finals | 2001 | FIA | A, IX, 3 | fl. mile | 458.443 | YES * |
| Bonneville World Finals | 2001 | FIA | A, IX, 3 | fl. kilo | 737.395 kmh | YES |
| Bonneville World Finals | 1999 | SCTA/BNI | T/III | fl. mile | 427.832 | YES |
| Bonneville World Finals | 1997 | SCTA/BNI | T/III | fl. mile | 400.833 | no |
____________________________________________________________________________________________________________
Home | About Ugo Fadini | Current models | How to order | Discontinued models | Models to come | Articles & Stories | Links
© Ugo Fadini 2000/2011 - page last updated 11 February 2011