The Burkland family's earlier Bonneville cars
The Studebaker Competition Coupe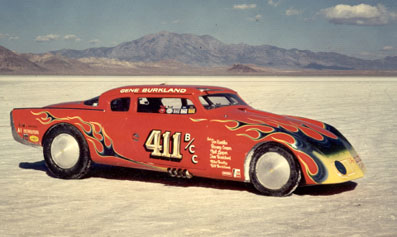 The Studebaker in 1978, the year Gene set the A/BFCC record (Photo Burkland)
Gene and Betty Burkland's first Bonneville car, and the first to wear the now cherished number 411, was a 53 Studebaker Gene first ran in 1971. It was powered by a Chrysler hemi, while aerodynamic treatment included a chopped top, a streamlined nose (hand made using Volkswagen rear fenders) and full belly pan.
In 1978 Gene set the A/BFCC record at 255.863 on this car, with the same 372" iron Chrysler hemi he and Betty had run on the drag strip on a Ford Roadster and a dragster and became Montana's first member of the 200 MPH Club.
The car then spent many years in the now closed Wendover Speed Museum. It was recently bought by another couple from Montana, Ron and Gail Tesinsky, who run it regularly since 2000 with a hemi.

The Datsun Competition Coupe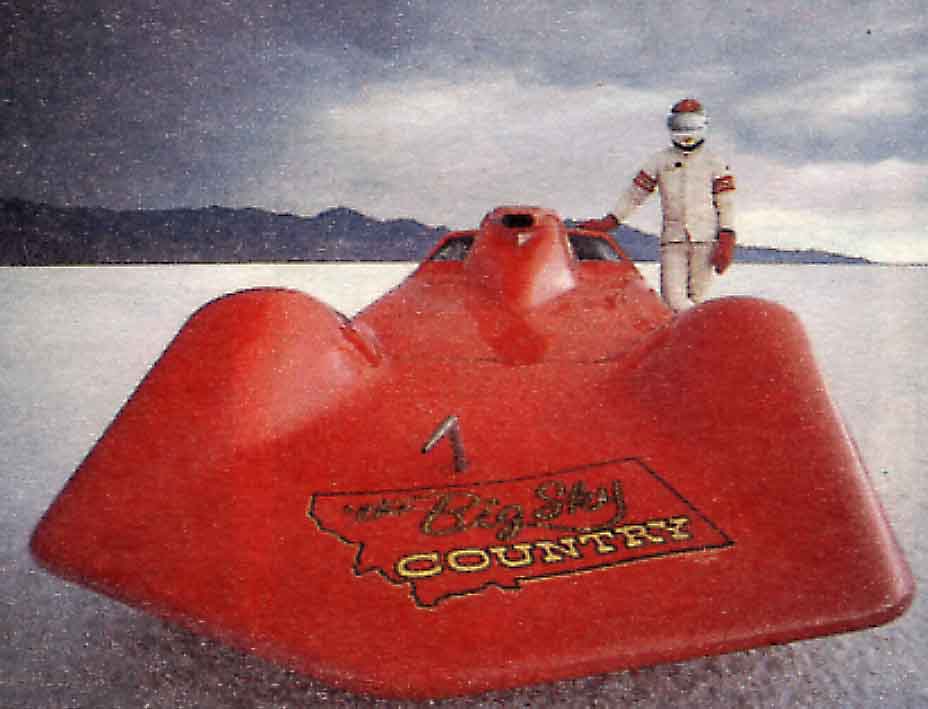 This radical ground effect Competition Coupe was the brainchild of Tom Burkland. He designed it during his senior year at College in 1980, and it appeared at Bonneville the following year, still unpainted, powered by a 180" Chrysler 4 cylinder with front-mounted Potvin blower and had nothing but problems.
In 1984 it was back with a 392" hemi with top-mounted blower and still had problems, but then in 1985 Tom entered the 200 MPH Club with a AA/BFCC record of 294.863 mph.
The next year the car was back with a new driver, Betty Burkland, and a new "4-cylinder" engine: actually a Chrysler V8 on which only 4 cylinders were used.
In 1987 Betty qualified for the D/BFCC record at 209.144 mph, but missed the record by 1.5 mph. She kept driving the car till 1989 with her best speed being 247 mph with a 300" Donovan.



Side view (from Hot Rod Magazine) and front view (above, from Auto Bild) of the Datsun in 1984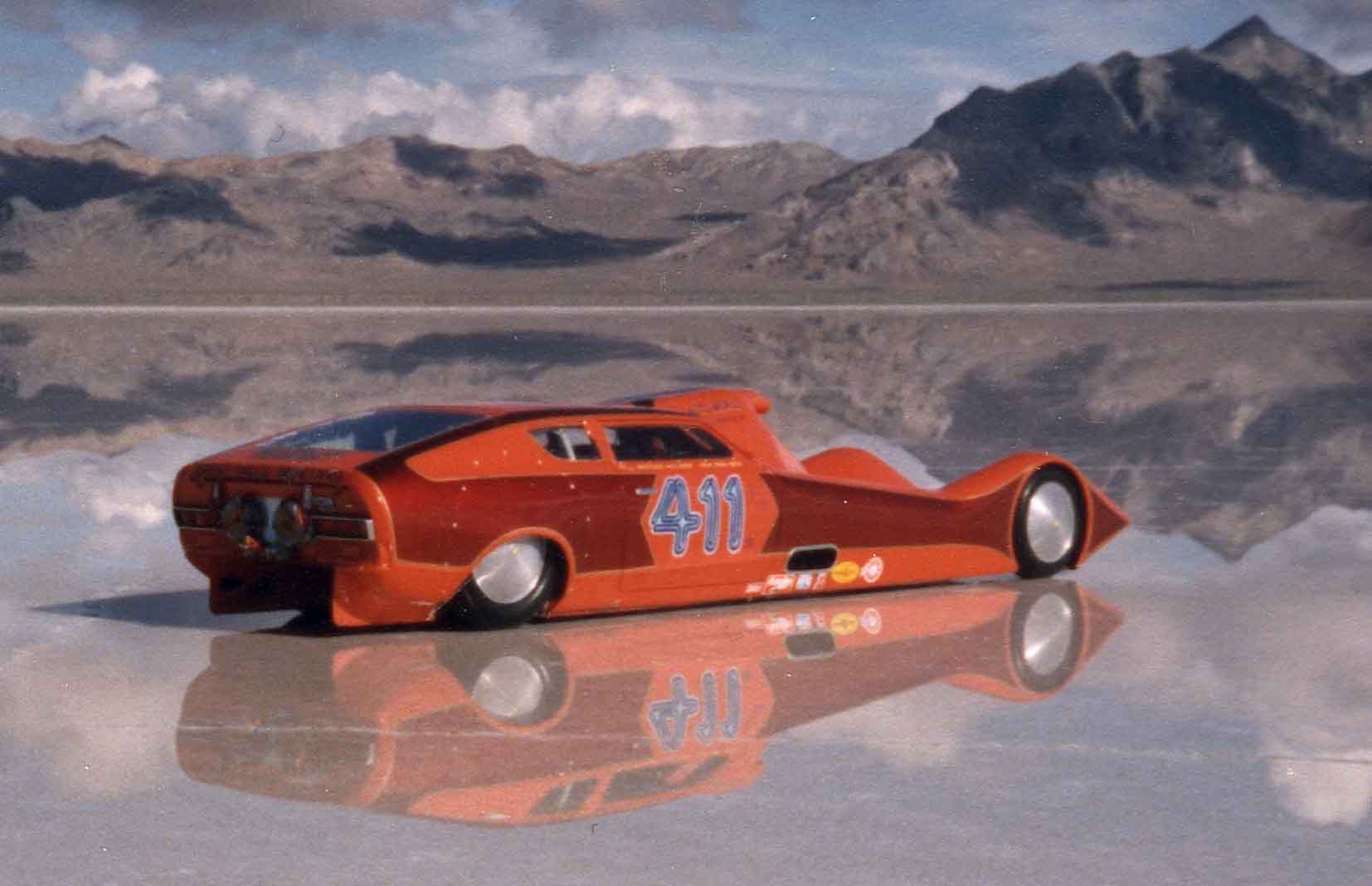 Tom drove the car with the Donovan in 1987, in preparation for using the engine in the new streamliner and he qualified three times for the B/CC record, with his best as fast as 268 mph (against a 237 mph record), but did not make any return runs.
The car was later sold to Dan Webster who set several records using flathead engines.
The Datsun in 1987 (Photo Steve Garcia)


Tom and Gene Burkland had built another streamliner before the now famous 411: originally known as "Big Jake's Spl." or "Montana Magic", it was built for Nick Mays from Great Falls, was then sold to Jack Harris who remamed it "Mountain Rider" and is now known as the Jaz streamliner, owned and raced by the Zimmermanns of Jaz Products.




____________________________________________________________________________________________________________

Home | About Ugo Fadini | Current models | How to order | Discontinued models | Models to come | Articles & Stories | Links

© Ugo Fadini 2000/2002 - page last updated 4 August 2002