Ugo Fadini Model #12
Al Teague's Spirit of 76 (Speed-O-Motive) streamliner
Wheel driven FIA International land speed record, Bonneville Salt Flats 1991
Model #12 pictures the car at Bonneville during the 1991 Speed Trials,
when it set a new wheel driven land speed record.
First 225 models came mounted on a signed wooden base.
Beginning with no. 226 they come mounted on a signed white forex base, like all other models in the series.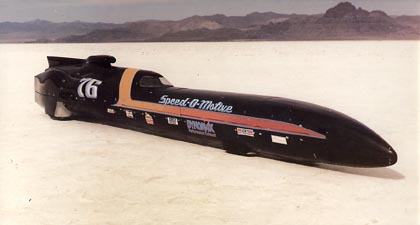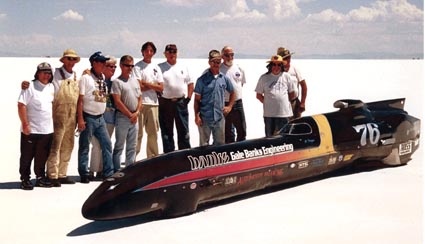 Speed Week 2000, B class record (Photo courtesy Al Teague)
The model has been released with the full support of Al Teague and his team. It is based on measurements I took on the real car at Bonneville.
If you want to know more about this car go to Al Teague's web site
____________________________________________________________________________________________________________
Home | About Ugo Fadini | Current models | How to order | Discontinued models | Models to come | Articles & Stories | Links
© Ugo Fadini 2000/2008 - page last updated 30 June 2008